Yunite Client
Information
The Yunite Client is an installable client for Windows computers. The client will upload your tournament replay files so you don't have to do it yourself, notify Yunite's services about its presence (pings) and the time when you join and exit a game. This is done for the sole purpose of automating leaderboards, and the client will not do any other action on your computer.
The client has been checked for hidden threats on virustotal.com.
You can check them here:
VirusTotal Analysis - Installer
VirusTotal Analysis - Client
Installation instructions
1. Download Client
Click the button below to start the download.
Start download
2. Install the client
Open the downloaded file, and follow the instructions of the installer.
You might get warned by Windows. This happens because our software is new, and must build up some reputation at Microsoft. This does not mean that it's malicious. If you have concerns, check out the VirusTotal links above or contact us on our support server.
Follow the instructions in this video if you encounter a SmartScreen warning: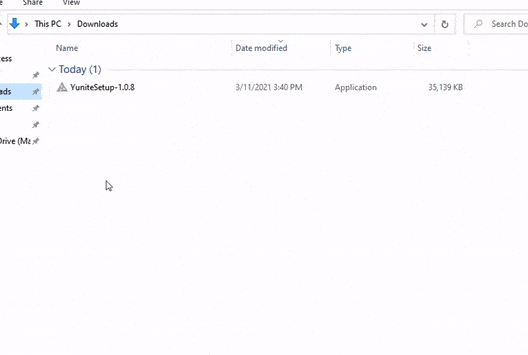 3. Done!
The client will now run in the background. There is no window.
Check for a Yunite tray icon next to your clock in the taskbar.